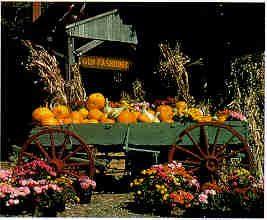 Historic Southern Indiana is a region abundant in historical, natural, and recreational resources. Scattered across its hills and valleys are many small towns rich in heritage.
This Heritage Area contains numerous sites of historical significance, including Vincennes, Corydon, New Harmony, Madison, and Abraham Lincoln's boyhood home.
Forests, caves, rivers, and lakes offer scenic beauty and recreational activities.
---
INDIANA TERRITORY CAPITOL
The city of Vincennes had its beginning in 1732 when the French wanted to build a trading post midway between Detroit, New Orleans and St. Louis.
A band of Frenchmen, led by Francois Marie Bissot, Sieur de Vincennes, founded the city in 1732 by establishing a fort on the banks of the Wabash River.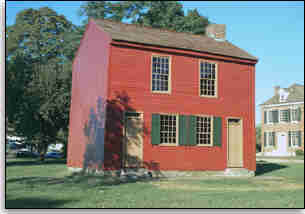 The Ordinance of 1787 established a system by which a wilderness could be converted into a territory and then a state.
This ordinance established the Northwest Territory in 1787.
In 1800 the territory was divided. The eastern part was still called the Northwest Territory and became the state of Ohio in 1803.
The western part became the Indiana Territory and Vincennes was named the capital.
The new Indiana Territory included the present states of Indiana, Illinois, Michigan, Wisconsin and part of Minnesota.
---
ANGEL MOUNDS
For over a thousand years, Southwestern Indiana was home to many Native Americans.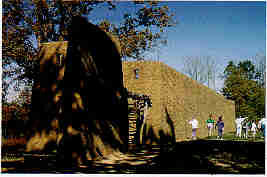 Today, Angel Mounds State Historic Site is nationally recognized as one of the best preserved prehistoric Native American sites in the United States.
From 1100 to 1450 A. D., a town on this site was home to people of the Middle Mississippian culture, who engaged in hunting and farming on the rich bottom lands of the Ohio River.
Several thousand people lived in this town protected by a stockade made of wattle and daub.
Because Angel Mounds was a chiefdom (the home of the chief) it was the regional center of a large community that grew outward from it for many miles.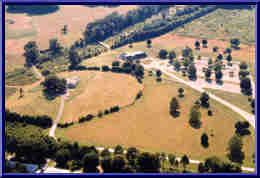 This settlement was the largest known town of its time in Indiana, but the Mississippian people eventually deserted it. No one today knows why.
Fortunately, preservation and archaeological efforts at Angel Mounds State Historic Site offer a glimpse into this highly developed culture of the distant past.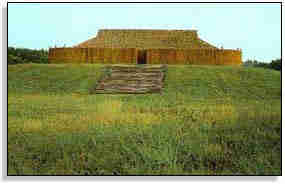 For 25 years, this living museum has told the story of one pre-contact Native American culture on the Ohio River.
Angel Mounds State Historic Site is part of the Indiana Department of Natural Resources, Division of Indiana State Museums and Historic Sites.
It is one of 16 state museums and historic sites in Indiana.
---
LINCOLN BOYHOOD HOME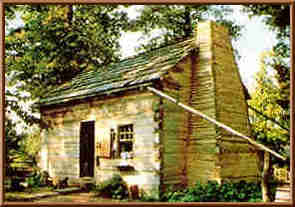 On this southern Indiana farm, Abraham Lincoln spent fourteen of the most formative years of his life and grew from youth into manhood.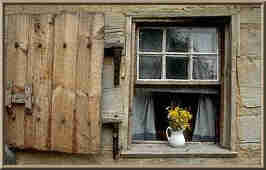 His mother, Nancy Hanks Lincoln, is buried here.
This is the window of Abraham Lincoln's boyhood home in the Lincoln Boyhood National Memorial, near Little Pigeon Creek, Indiana.
---
EVANSVILLE THUNDERFEST
Thunderfest is an unlimited hydraplane race.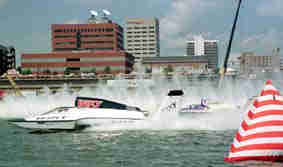 It is held on the Ohio river at Evansville Indiana each summer.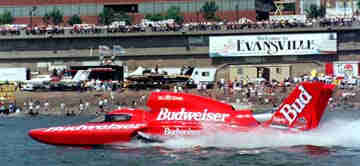 "A pretty awesome site!!"
---
VINTAGE FIRE ENGINE MUSEUM
In New Albany, Indiana, rated one of the top five collections of vintage fire apparatus and memorabilia in America.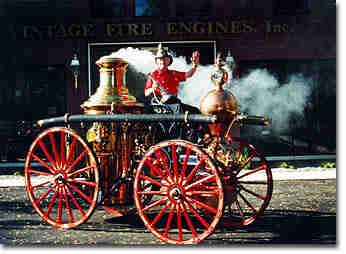 See the very first chemical fire engine in the United States.
Other items on display include lanterns, fire engine models, chief's trumpets, engine lamps, and helmets, torches and much more.
Watch films on old-time firefighting in the 30-seat theater.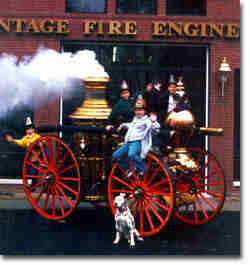 This museum of vintage hand and horse-drawn fire apparatues represents the lifetime collection of former Fire Chief W.Fred Conway, who is the orginator of emergency telephone stickers, the author of Those Magnificent Old Steam Fire Engines, Chemical Fire Engines, Firefighting Lore, editor of Discovering America's Fire Museums, and a contributor to Fire House Magazine.
Fred Conway, curator of the new Vintage Fire Engine Museum in New Albany, Indiana, sits atop an 1875 steam fire engine that once protected the village of Port Henry, New York.
Restoration of the 124 year old engine took 14 months.
---
CRAWFORD COUNTY
Scenic Crawford County, Indiana's best kept secret,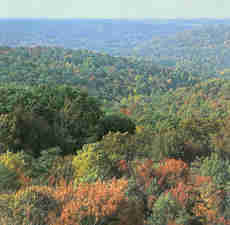 is bordered on the south by the Ohio River, Patoka Lake to the northwest and the Blue River to the east.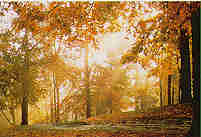 In between, thousands of acres of government forest, caves, cliffs, and other natural geological wonders create a haven for nature lovers.
---
BATTLE OF CORYDON
Harrison County Battle of Corydon Memorial Park is one of a few Civil War battle sites fought on northern soil.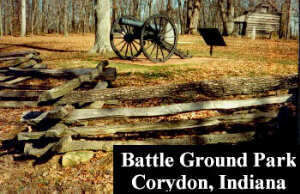 The Battle occurred on July 9, 1863, when 450 members of the Harrison County Home Guard attempted to delay General John Hunt Morgan's 2,400 Confederate soldiers in hopes that Union reinforcements would arrive and stop Morgan's march through southern Indiana.
At the Battle Site, a commemorative marker depicts the event and lists the casualties suffered by both the north and the south.
---
MADISON

Settled in 1809, Madison was a major river port and supply town outfitting pioneers moving into the Old Northwest Territory.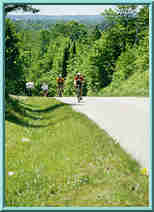 The Steamboat Era and construction of roads and rails into central Indiana brought wealth and influence.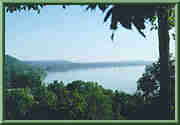 As railroads flourished and expanded, new commercial and industrial centers emerged, and Madison slipped into a century of slumber.
Madison's tradition of fine building created an architectural legacy that spawned a preservation movement in the 1960's and continues to evoke admiration for this significant historic community.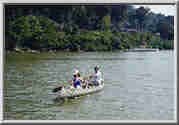 Madison's scenic riverfront park offers a gazebo, brick walkways, lights and benches to view the Ohio River.
This area also is home to several open air festivals, and frequent stops of the American Queen, Delta Queen and Mississippi Queen.
Public boat launching facilities are available all year round.
---
SANTA CLAUS POST OFFICE

The entrance to this quiet town is marked by a giant Santa statue surrounded by corn fields.
The Santa Claus post office, which is in Santa Claus, Indiana, postmarks about 200,000 holiday cards and a half-million Santa letters each Christmas.
It's where the U.S. Postal Service really sends letters addressed to Mr. Claus (Santa's zip is 47579, in case your kids ask).
---
SQUIRE BOONE MILL
Boone's Mill Cave and Boone's Grave Cave, now a part of Squire Boone Caverns, Village and Campground, are on Buck Creek about 5 miles northeast of Mauckport in Harrison County.
Squire Boone and his older brother Daniel are said to have discovered the caves in 1790 while on a hunting expedition.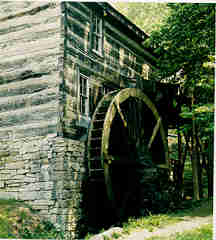 In 1804 Squire Boone and his family returned to settle in Grassy Valley, where the caves are located.
Boone and his four sons cleared the land and built a large cabin and the first gristmill in Harrison County.
Water from a huge spring flowing from the entrance of the larger cave powered the mill. After Boone's death in 1815, his remains were interred within the small cave.
In 1973 new entrances were blasted and steel bridges were constructed.
Restoration of the mill, which burned in the 1920's' was completed in 1980.
The mill, with a 150-foot-long raceway and an 18 foot 3 ton overshot waterwheel is the highlight of the village.
---
CAESARS INDIANA RIVERBOAT CASINO
Located in Harrison County Indiana, just across the Ohio River from Louisville, Kentucky, Caesars Indiana brings the glory and splendor of the Caesars guest experience to middle America.
Caesars Indiana goes beyond standards in riverboat gaming to provide a complete and exciting resort experience.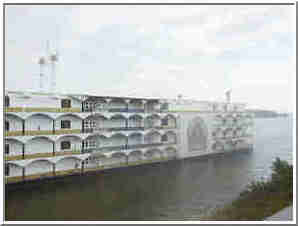 True to the legends of Emperors, the Caesars cruising casino is the worlds largest gaming vessel.
The casino has seven exciting and different highly themed casino decks, approximately 2500 slot machines and 142 gaming tables, with the richness and variety upon which Caesars has built its legacy.
This 452 foot-long and 100 foot-wide vessel is the largest passenger carrying riverboat on any river in the world.
A magnificent addition to the Caesars Empire, it holds 5,000 passengers and features a atrium with escalators connecting each of four decks.
---
MARENGO CAVE NATIONAL LANDMARK
Nestled in the limestone hills of southern Indiana is Marengo Cave, one of the most beautiful show caves in the eastern United States.
Designated a U. S. National Landmark based on its great beauty, and extremely large classic trunk passage, Marengo Cave has long been considered by speleologists and geologists as one of the midwest's finest natural wonders.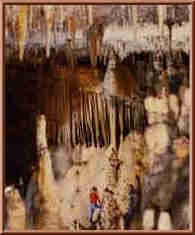 This underground treasure has slowly been carved out by nature.
It provides a great opportunity for visitors of all ages to experience a grandeur that is seldom seen today.
The famous cave, discovered in 1883, offers two guided tours through different sections of the cavern. You may choose from a short 35-40 minute tour through the Crystal Palace section, a seventy minute trip through the Dripstone Trail section, or do both!
Marengo Cave Park is Indiana's Outdoor Center with a wide variety of facilities.
The 122 acre park includes a wooded group campground, swimming pool, horseback riding trails, canoe and kayak rentals on Blue River, group bunkhouses, snack shop, gemstone mining flume, climbing tower, The Crawl, shelterhouse, signed nature trail, teams course and several picnic areas.
---
HOLIDAY WORLD AND SPLASHIN' SAFARI
Located in Santa Claus, Indiana, The history of the nation's first theme park is the story of a family which has, for three generations, dedicated itself to providing millions of guests with good, old-fashioned family fun.
Evansville, Indiana, industrialist Louis J. Koch created the nation's first theme park as a retirement project.
He was troubled that the tiny hamlet of Santa Claus, Ind., was visited by children from throughout the country who were ultimately disappointed when they found out Santa was not there.
With nine children of his own, Koch loved children, holidays and celebrations.
Koch was actually planning to open his park earlier in the 1940s, but World War Two forced him to wait until 1946.
Santa Claus Land originally contained a toy shop, toy displays, themed children's rides, a restaurant, and, of course, Santa Claus.
Over the decades, Santa Claus Land grew and flourished.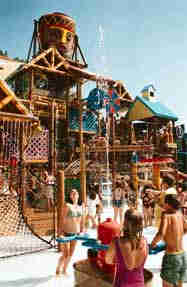 Children from throughout the country came to sit on the real Santa's knee and talk glowingly about their Christmas wishes.
Guests included Ronald Reagan, who stopped by in 1955.
As the park expanded, the Koch family knew that Christmas was just one of the theming possibilities for the park.
In 1984, Santa Claus Land grew to include Halloween and Fourth of July sections, and the park's name was changed to Holiday World.

Larger rides were added, including the very popular Raging Rapids white water raft ride and Frightful Falls log flume.
In all, Holiday World features 100 acres of rides, shows, games, and attractions.
In 1993, a whole new park was added. Splashin' Safari Water Park features a wave pool, an action river, a family raft ride, numerous water slides, plus Crocodile Isle children's activity area and Monsoon Lagoon, an interactive, multi-leveled family waterplay complex.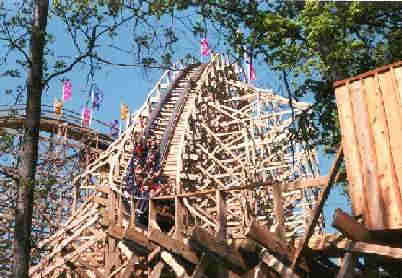 To celebrate its 50th season in 1995, Holiday World introduced The Raven wooden roller coaster.
Located in the Halloween section, The Raven features 86-foot and 61-foot drops, a low, banked curve over Lake Rudolph, and a 120-foot tunnel, plus a few other surprise.
In 2000, Holiday World became the only park in the world to offer free, unlimited soft drinks to every guest.
In August, the readers of Amusement Today voted The Raven the world's #1 Wooden Roller Coaster; in the same survey, readers named Holiday World the #1 Friendliest Park and the #1 Cleanest Park.
---
THE FOREST DISCOVERY CENTER
Discover the wonders of the forest and learn how valuable one tree can be with "Oakie" the acorn.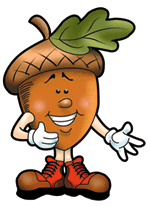 Created to celebrate this ever-renewable resource, The Forest Discovery Center lets you experience the beauty and richness of our woodlands.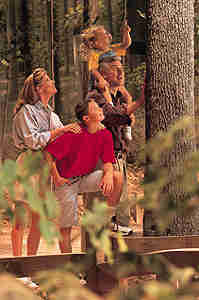 Wander through an indoor forest, past a 1000 square foot mural created from small wood inlays, using an age-old technique called marquetry.
You'll see the role the forest plays in our daily lives and learn how we are preserving its beauty for many generations to come.
A glass-enclosed skywalk brings you to Koetter Woodworking's rough mill, where you'll watch logs become trim and moulding, with not a speck of sawdust wasted.
---
HOOSIER NATIONAL FOREST
The Hoosier National Forest, in the hills of south central Indiana, provides a wide mix of opportunities and resources for people to enjoy.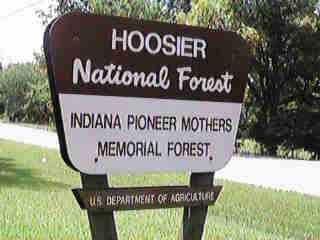 Rolling hills, back-country trails, and rural crossroad communities make this small but beautiful Forest a favorite!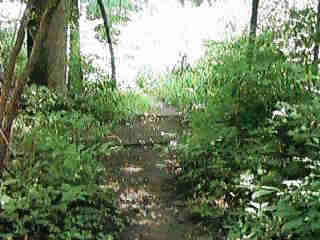 Forest managers work with the public to develop a shared vision of how this 197,000 acre Forest should be managed.
The challenge is to provide a Forest with the values and benefits people want while protecting the unique ecosystems on the Hoosier National Forest.
---
ANTIQUE AUTO AND RACE CAR MUSEUM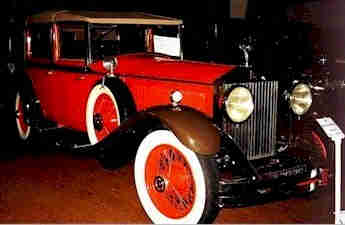 See Over 100 Race & Antique Cars at the Antique Auto & Race Car Museum located in Bedford, IN.
Located 75 miles south of Indianapolis, Indiana. Visitors to the museum come from around the world.
Eddie Evans has displayed his lifetime collection of cars for others to be able to enjoy.
---
TURNER DOLL FACTORY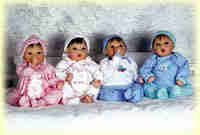 Virginia and Boyce Turner started Turner Doll Company in 1983 and they only manufactured porcelain.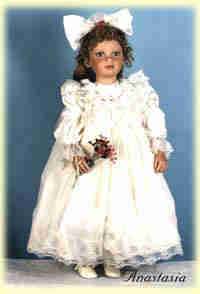 Then in 1986 they decided to move to a 40 acre farm that belonged to Boyce's grandfather Turner who had left the farm to Boyce's Father. Her father in law deeded the farm over to them and then they really expanded.
The market was turning toward vinyl dolls so under Boyce's instruction they installed two vinyl ovens, a sewing facility, a porcelain studio and a retail outlet.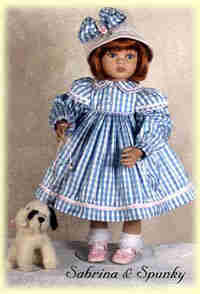 They have 20 employees and Boyce is still the moldmaker and general planner.
Virginia designed dolls for the Hamilton Collection and then when Asthon-Drake purchased the Hamilton Collection she automatically now and then design dolls for them.
Virginia loves realism has been told numerous times that the dolls look so real. Most of their dolls are large and can wear real children's clothing. Their vinyls are sold in many stores across the country and also on the QVC marketing network.
---
STREAM CLIFF HERB FARM
Stream Cliff Herb Farm is owned by Betty & Gerald Manning. The farm has a long history in Betty's family. Betty's Great-grandfather lived on the farm and it has been passed down through the generations since that time.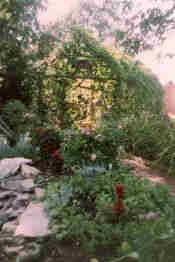 The gardens, which are done in quilt designs, are dedicated to Betty's grandmother, Luella Tate Artz. She was a quilter and gardener and lived for more than fifty years on the farm.
The farm was raided during the Civil War by Morgan's Raiders and has been in the family for more that 100 years.
Their children, who are the fifth generation to live on the farm, are involved in the business as well.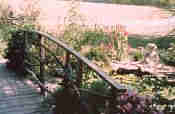 Elizabeth manages Twigs & Sprigs Tearoom, which serves herbal lunches, and afternoon tea garnished with herbs and edible flowers.
Greg is involved in greenhouse management, landscape design, construction, and is very interested in water gardens.
Now Stream Cliff Herb Farm consists of: four shops filled with handmade, traditional crafts and garden related items, Twigs & Sprigs Tearoom, Grandmother's Keeping Room:
A Nature and Traditional Craft Learning Center, several display gardens with water features, lectures & workshops, and an extensive line of herbs, perennial flowers, old-fashioned roses, wildflowers, hosta, vines and climbers.
Each year as customers visit our farm it is our goal to provide them with one of the best experiences of any herb farm in the Nation. If you visit or live in our area please come to our farm and enjoy a quite moment in our garden.
---
RISING SUN REGATTA AND RIVERBOAT DAYS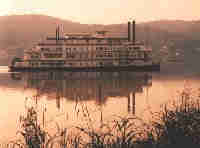 From the Ohio River vantage point at the foot of historic Main Street in Rising Sun, Indiana, you can see where they got their name.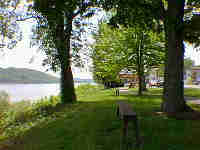 Since 1814, Rising Sun's inspiring natural setting has attracted inventors, innovators and artists.
Their tradition of creativity is experienced in their many art galleries, restaurants, and unique shops lining Main Street.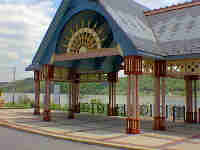 Full of festivals and community events, Rising Sun is also home of the Grand Victoria Casino and Resort, Southeast Indiana's first riverboat casino.
Dockside you'll also find a new 18 hole golf course, restaurants and the Grand Theatre, featuring Las Vegas style entertainment.

Conner Prairie features an 1836 Village of Prairietown, 1823 Conner Estate and hands-on Pioneer Adventure Area.
New this year, are an 1816 Trading Post and Delaware (Lenape) Native American Camp. The museum center has a shop, restaurant and exhibits.
Located in Noblesville, Indiana, This 220 acre, 24,000 seat (6,000 covered) amphitheater includes a hospitality/event plaza with full catering and beverage service.