---
RUGGLES MINE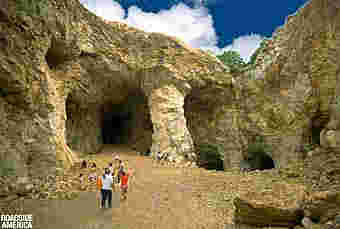 The Ruggles Mine burrows its way into Isinglass Mountain near the town of Grafton -- a huge, open pit, honeycombed along its edges with pitch-black side passages, supported by massive columns of pegmatite. It looks unsettlingly like where the lepers were sent in Ben Hur.
This place is smart; up front you're shown a video and a museum, all aglitter with sparkly giant beryls and amethyst supposedly found at the mine. "Oooh," says a teenager to her boyfriend. "That's what I want you to find for me!" Next stop is the rental booth, where for three dollars you can rent a hammer on top of your nine dollar admission fee. Of course, if you really want to get back to where the good stuff is, you should also rent the five dollar flashlight, the ten dollar helmet.... Those free gems can get expensive. Now it's down into the pit with you, you modern-day leper! Start hammering!
Aside from its startling photogenic presence, the one thing you'll remember about this place is the incessant, continuous banging that echoes across the man-made canyon as gem-happy geotourists pound away at everything (even the main support pillars) in their rabid quest for semi-precious gemstones.
It's refreshing in an age of "Take only photos, leave only footprints," to find a place that says, "Go ahead! Destroy our attraction!"
---


PLEASE CLICK ON THE LICENSE PLATE BELOW TO BRING YOU TO PAGE TWO OF THE TOUR!!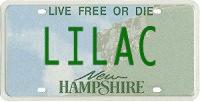 "Old New Hampshire"